Monday August 24, 2015
Symposium Focuses on Modifying the Hostile Environment to Support Long-Term Recovery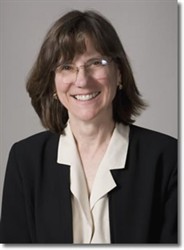 Linda Noble-Haeusslein, Ph.D., Professor and Vice Chair of the Department of Neurological Surgery at the University of California, San Francisco (UCSF), will be the  keynote speaker during the Mission Connect 2015 Scientific Symposium December 4. The annual symposium will be held at the Cooley Life Center in Houston.
The Institute For Rehabilitation and Research (TIRR) Foundation, based in Houston, created and directs Mission Connect, one of the nation's only collaborative research programs where scientists, physicians, researchers, and engineers from multiple institutions work together to develop solutions addressing traumatic brain and spinal cord injury.
"This meeting is unique in the sense that it is one of the few that provides for the sharing of knowledge across a wide spectrum of medical and field professionals addressing traumatic brain and spinal cord injuries," said TIRR Foundation Executive Director Cynthia Adkins. "It is also one that generates a great deal of excitement as the results of research are revealed and the potential to provide cures and therapies are explored."
Dr. Noble-Haeusslein holds the Alvera L. Kan Endowed Chair of Neurological Surgery at UCSF and is co-director and principal investigator for the Brain and Spinal Injury Center (BASIC) as well as co-director of the Neurobehavioral Core for Rehabilitation Research.
She focuses on the neurobiology of traumatic injury to the central nervous system. The Noble laboratory employs experimental models of traumatic brain and spinal cord injury in the rodent to study the early events that contribute to cell injury and impair functional recovery.
The Symposium will include a poster competition for and  podium presentations by postdoctoral and graduate students. Abstracts are due October 31. To register or for further information go to tirrfoundation.org, contact Sandra Jochen, jochens@tirrfoundation.org or call 713-877-0499.