Wednesday April 22, 2015
Compelling stories surrounding the dedication of a leading neurosurgeon and a victory over a potentially fatal injury framed an exciting evening during TIRR Foundation's Connect The Docs, benefitting Mission Connect April 22.
Chaired by TIRR Family President Janis Henry and her husband Randy Henry, and emceed by Louise Parsley, the evening honored Dr. Robert Grossman, a founding member of Mission Connect. "Dr. Grossman is one of the most widely recognized neurosurgeons in the world with an endless list of accolades," said TIRR Foundation Executive Director Cynthia Adkins. "This opportunity to recognize his contributions to Mission Connect brought to light his guidance and mentorship of more than 100
scientists, physicians, engineers, and other specialists who are members of Mission Connect."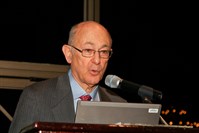 Among the awards received by Dr. Grossman is the highly coveted Harvey Cushing Medal, the highest honor awarded by the
American Association of Neurological Surgeons. He is also a founding member of the Houston Methodist Neurological Research
Institute and Professor of Neurological Surgery. Practicing for more than 58 years, Dr. Grossman is noted for his dedication to
teaching and advancing research. Dr. Grossman was joined by his wife of 60 years, Dr. Ellin Friedman, as well as their daughters and grandchildren. Rabbi Jack Segal gave brief remarks about his friendship with Dr. Grossman before delivering the invocation, followed by a video featuring historical images and footage of Dr. Grossman's professional and personal life. Interviews with Dr. Claire Hulsebosch and Dr. Guy Clifton who, along with Dr. Grossman, are founding members of Mission Connect, were also featured.
Guests were also treated to the insights of presenter Mike Segal, who shared his own life lessons after being shot in the head and
left for dead during a convenience store robbery in 1981. Currently a social worker in Houston, Segal has been recognized by Newsweek
as an "unsung hero," but noted that he would rather be seen as a person who overcame a tragic event. Following his recovery, Segal
became a Phi Beta Kappa and was selected as a Dean's Distinguished Graduate in the College of Liberal Arts at the University of Texas.
Most important to Segal, is his role as a dedicated husband and father.