Friday October 21, 2016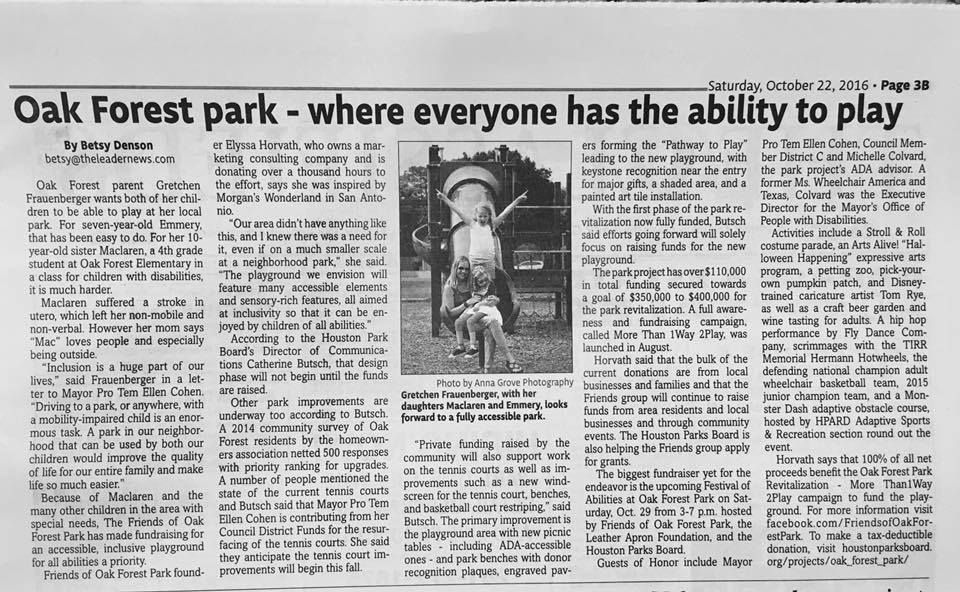 This great article from The Leader features TIRR Family member Gretchen Frauenberger and her daughters who are championing a park renovation for accessibility in their neighborhood. An Oak Forest parent, Gretchen wants both of her children to be able to play at her local park. For seven-year-old Emmery, that has been easy to do, but for her 10-year-old sister Maclaren, a 4th grade student at Oak Forest Elementary in a class for children with disabilities, it is much harder.

Maclaren suffered a stroke in utero, which left her non-mobile and non-verbal. However she loves people and especially loves being outside.

"Inclusion is a huge part of our lives," said Frauenberger in a letter to Mayor Pro Tem Ellen Cohen. "Driving to a park, or anywhere, with a mobility-impaired child is an enormous task. A park in our neighborhood that can be used by both our children would improve the quality of life for our entire family."

Because of Maclaren and the many other children in the area with special needs, The Friends of Oak Forest Park has made fundraising for an accessible, inclusive playground for all abilities a priority.
If you are free on October 29th, join us at the Festival of Abilities at Oak Forest Park. All proceeds will go toward the Oak Forest Park Revitalization, which aims to build a playground for all - the first accessible, inclusive playground for all levels of ability located within the central northwest Houston communities.